Six ancillary projects are covered here. Selected volunteers will each make scheduled visits to these facilities once a month, or more, and visit their assigned nursing homes during the rest of each month.

Virginia Piper Cancer Center
A cadre of 10 volunteer-pet teams rotate scheduled visits at the Virginia G. Piper Cancer Center, so that a team visits Monday through Thursday each week. A team will spend one to two hours on each visit, first greeting patients in the lobby on their way to treatment or a consultation, then proceeding upstairs to visit with patients while they are undergoing treatment. The serious looks on patients faces soon melt into smiles when they spot the dog and momentarily can forget their plight as they pet and talk to the dog.

Teams visit in the main lobby, library, gift shop, waiting rooms, in several treatment rooms, as well as staff offices letting the patients and staff members interact with the dogs. Some dogs will also do tricks to bring levity to a very serious situation. The visits seem to be good therapy not only for the patients but for the staff and volunteers of HonorHealth as well.

Pets on Wheels volunteer, Diane Bykowski, coordinates visits of the therapy pet teams.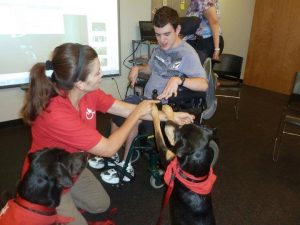 Pets on Wheels volunteer-pet teams commenced twice weekly visits to Cortney's Place in February 2009.

This is a program of education and adjustment, under the auspices of the Marc Center (Association for Retarded Citizens). The program includes young adults beyond the age of 21, the limit for attendance at the School District's Life Skills classes. They are all seriously developmentally challenged.

The goals are to reduce the student's fear of animals, increase the feelings of care and responsibility, assist in motor control and coordination, and improve bonding with animals and other humans. The pets help produce a relaxing and therapeutic effect.

Pets on Wheels volunteer, Fran Wiesenberger, coordinates visits of the therapy pet teams.

STARS (Scottsdale Training and Rehabilitation Services)
Pets on Wheels volunteer teams began visiting the two Scottsdale locations in late 2015. These locations provide services to teens and adults with developmental and cognitive disabilities throughout Scottsdale and the Greater Phoenix community.

Life Skills Programs
Each week, during the school year, our program coordinator assigns one of the Pets on Wheels volunteer-pet teams to visit the Life Skills classes at Chaparral High School, Cocopah Middle School, Coronado High School, Desert Mountain High School and Sunrise Middle School. The team visits two or three small classes of developmentally challenged youngsters, aggregating about 15 students; through age 21.

Since December 2003 such volunteer-pet teams have alternated their weekly visits to nursing homes, with visits to these very special children. A volunteer team will visit the classes for about an hour, allowing the children to pet and sometimes brush the dog. Some of the children have to overcome their fear of the animal, which sometimes takes three to six visits. A definite change in the students attitude about the dog takes place in just about every case. It is another lesson in life, for them.

The Life Skills Project is ancillary to regular health care center visits. Special dogs are selected to avoid possible injury and to be most trustworthy with young people and sometimes unpredictable movements. Over 1,200 volunteers of Pets on Wheels of Scottsdale have shared their pets love with special citizens of Scottsdale since 1990.

Children's Pet Safety Program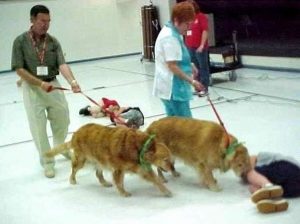 Five to nine times during the year, several volunteer teams visit an elementary school in Scottsdale to teach second graders how to avoid injury if approached by a stray dog. The volunteers speak for a few minutes, show them a video titled, "Dogs, Cats, and Kids," then let them demonstrate what they have learned with the visiting therapy dogs.

SafetyFtnHls0503-3aSince 1997 some 35 such volunteer teams have presented the children's pet safety program to over 10,000 children in the Scottsdale Unified School District. The children learn the "Tree and "Rock" positions. When approached by a strange dog, they learn to stand straight and tall, with their hands at their sides. They do not look the dog in the eyes. When on the ground, they learn to curl up in a ball, with their hands over their ears – and not to move. These attitudes cause the animal to sniff and walk away, disinterested in something that doesn't move.

The Children's Pet Safety Project has been sponsored by Pets on Wheels of Scottsdale, a pet-visitation therapy program which has been serving health care centers in Scottsdale since 1990. Peggy Eischen, President, coordinates the presentations among other volunteers. It is believed that the pet safety project has helped prevent many injuries and that even a few lives may have been, or will be, saved.

Family Promise Program / Our Lady of Perpetual Help
Pets on Wheels volunteers participate in the Greater Phoenix Family Promise Program, which provides meals and overnight lodging to homeless families. The schedule rotates among local churches. Selected volunteer-pet teams visit Scottsdale churches a few times each year to brighten the lives of many of the families, to the delight of the children, especially. Julie Bronstein coordinates the volunteer-pet team visits.