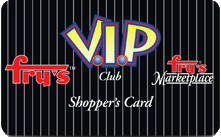 Fry's Foods Community Rewards Program
Pets on Wheels of Scottsdale, Inc. has partnered with Fry's Foods in their Community Rewards Program. When you link your VIP Rewards card with Pets on Wheels, a quarterly donation is made directly to Pets on Wheels in addition to the fuel points accrued and store discounts offered.
There is no cost to enroll. Follow these easy instructions to enroll now. Have your VIP Rewards card handy; you'll need the number. Renewal annually; we send out reminders.
Pets on Wheels Organization Number is: 4537O


STEP 1. Create an Online Fry's Account. (skip to "Step 2" if already set-up)
Click this LINK to Fry's Program and select "Register"
Under Sign-In information, enter your email and create a password.
Select "Use Card Number" and enter your number, last name and zip code.
Under select your preferred store, enter your zip code and find a store. (preferred store is just for profile; purchases in all stores qualify)
Choose your store and Select "Create an Account"
You will be prompted to check for a confirmation email. Follow the confirmation link and continue completing your Fry's Account.
Now on to Step 2.


STEP 2. Start here if you have your Fry's Account set up online.
Click this LINK to Fry's Program and select "Sign In"
On far left menu, select "Fry's Community Rewards Program"
Scroll down to the first "ENROLL" button and enter the Pets On Wheels # 4537O
Highlight the radio button for Pets on Wheels and "save changes"
If registered correctly, you should now see Pets on Wheels listed in the Community Rewards section of your account.


RENEWAL – Annually
Click this LINK to Fry's Program and select "Sign In"
Select: Account Summary
Select: Community Rewards
EDIT your Rewards selection. (required annually – to continue our donations)


Thank you for your support.